Janey Masters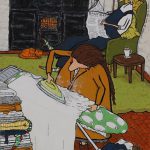 Gwendra House
63 Maeshyfryd Road
Holyhead
LL65 2AP
A55 to Holyhead roundabout.Take 2nd exit. Turn left up Holborn Rd. At top turn left into Maeshyfryd Rd. Follow road, crossing top of Kings Rd. Gwendra is on the left, opposite Holyhead Cemetary.
I believe a smile is good for the soul, and enjoy creating humorous paintings (often featuring whimsical characters), as well as colourful artworks inspired by nature, life and imagination, in an eclectic mix of medium, technique and style.
Open throughout the year by prior appointment.
Sat 1 Apr

11am - 5pm

Sun 2 Apr

Mon 3 Apr

Tue 4 Apr

Wed 5 Apr

Thu 6 Apr

11am - 5pm

Fri 7 Apr

11am - 5pm

Sat 8 Apr

11am - 5pm

Sun 9 Apr

Mon 10 Apr

11am - 5pm

Tue 11 Apr

11am - 5pm

Wed 12 Apr

11am - 5pm

Thu 13 Apr

11am - 5pm

Fri 14 Apr

11am - 5pm

Sat 15 Apr

Sun 16 Apr
Sat 1 Apr

11am - 5pm

Sun 2 Apr

Mon 3 Apr

Tue 4 Apr

Wed 5 Apr

Thu 6 Apr

11am - 5pm

Fri 7 Apr

11am - 5pm

Sat 8 Apr

11am - 5pm

Sun 9 Apr

Mon 10 Apr

11am - 5pm

Tue 11 Apr

11am - 5pm

Wed 12 Apr

11am - 5pm

Thu 13 Apr

11am - 5pm

Fri 14 Apr

11am - 5pm

Sat 15 Apr

Sun 16 Apr