Michael Linford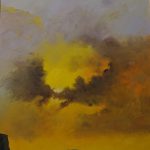 Caim Art, Caim Cottage
Penmon
Beaumaris
LL58 8SW
01248 490184
07719 617882
From Beaumaris head for Llangoed. Go straight through the village and up to the T junction at the top the hill. Turn left and after about 200 yards turn right and follow signs to Caim Cottage.
My work consists of Sea and Landscapes local to Anglesey and North Wales. I work in watercolour and oils.
Open throughout the year by prior appointment.