Featured artist
Llio Rhydderch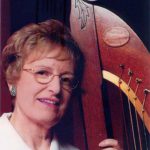 Llio Rhydderch is an internationally acclaimed Welsh Triple Harper. She has collaborated with a wide range of musicians and has performed at several major international festivals. As a composer Llio draws inspiration from Celtic spirituality, mythology, and the historical past of her native Wales.
Next event
Wales Coast Path 10th Anniversary
Sat, 24 Sep, 2022
Exhibition featuring the work of artist Manon Awst and poet Llion Pryderi Roberts.