Jayne Huskisson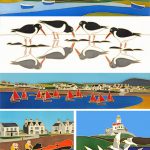 Canolfan Ucheldre
Millbank
Holyhead
LL65 1TE
Follow A55 into Holyhead, then Town Centre signs until brown on white tourist signs.
Over 30 years as an award-winning textile artist & designer. Inspired by local coast & country with a contemporary twist. Silk paintings & stitched appliqué artwork, limited & open edition prints, cards, mugs & coasters.
Open throughout the year by prior appointment.
Sat 9 Apr

Sun 10 Apr

Mon 11 Apr

Tue 12 Apr

Wed 13 Apr

Thu 14 Apr

Fri 15 Apr

Sat 16 Apr

Sun 17 Apr

Mon 18 Apr

Tue 19 Apr

Wed 20 Apr

Thu 21 Apr

Fri 22 Apr

Sat 23 Apr

Sun 24 Apr

11-5
Sat 9 Apr

Sun 10 Apr

Mon 11 Apr

Tue 12 Apr

Wed 13 Apr

Thu 14 Apr

Fri 15 Apr

Sat 16 Apr

Sun 17 Apr

Mon 18 Apr

Tue 19 Apr

Wed 20 Apr

Thu 21 Apr

Fri 22 Apr

Sat 23 Apr

Sun 24 Apr

11-5