Jayne Huskisson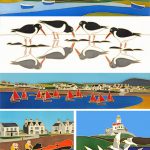 Bonc
Dothan
Ty Croes
LL65 5UT
A55, (J5) Rhosneigr. Take A4080 Rhosneigr, 1st left in Engedi after 40mph zone starts. Follow to end to T junction. Turn right. Approx 1/2 mile on right.
Over 30 years as an award-winning textile artist
& designer. Inspired by coast & country with a
contemporary twist. Silk paintings & stitched applique artwork, limited & open edition prints, cards and homeware.
Open throughout the year by prior appointment.
Sat 1 Apr

11am - 5pm

Sun 2 Apr

11am - 5pm

Mon 3 Apr

Tue 4 Apr

Wed 5 Apr

Thu 6 Apr

Fri 7 Apr

11am - 5pm

Sat 8 Apr

11am - 5pm

Sun 9 Apr

11am - 5pm

Mon 10 Apr

11am - 5pm

Tue 11 Apr

Wed 12 Apr

Thu 13 Apr

Fri 14 Apr

Sat 15 Apr

11am - 5pm

Sun 16 Apr

11am - 5pm
Sat 1 Apr

11am - 5pm

Sun 2 Apr

11am - 5pm

Mon 3 Apr

Tue 4 Apr

Wed 5 Apr

Thu 6 Apr

Fri 7 Apr

11am - 5pm

Sat 8 Apr

11am - 5pm

Sun 9 Apr

11am - 5pm

Mon 10 Apr

11am - 5pm

Tue 11 Apr

Wed 12 Apr

Thu 13 Apr

Fri 14 Apr

Sat 15 Apr

11am - 5pm

Sun 16 Apr

11am - 5pm