Huw Gareth Jones
Cilbwch
Rhoscolyn
LL65 2NQ
01407 860244
07747 697842
From Four Mile Bridge turn for Rhoscolyn. After one mile turn left for Silver Bay. After half mile fork right by a white post and speed bump. Follow the track down, Cilbwch is the last house by the sea.
Painting mainly in oils of the mountains, coast and buildings of Anglesey and North Wales. Through my work I endeavour to explore the medium to express varying aspects of the landscape. I will also be exhibiting at Oriel Plas Glyn Y Weddw
Open throughout the year by prior appointment.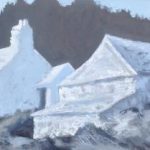 Sat 1 Apr

11am - 5pm

Sun 2 Apr

11am - 5pm

Mon 3 Apr

11am - 5pm

Tue 4 Apr

11am - 5pm

Wed 5 Apr

11am - 5pm

Thu 6 Apr

11am - 5pm

Fri 7 Apr

11am - 5pm

Sat 8 Apr

11am - 5pm

Sun 9 Apr

11am - 5pm

Mon 10 Apr

11am - 5pm

Tue 11 Apr

11am - 5pm

Wed 12 Apr

11am - 5pm

Thu 13 Apr

11am - 5pm

Fri 14 Apr

11am - 5pm

Sat 15 Apr

11am - 5pm

Sun 16 Apr

11am - 5pm
Sat 1 Apr

11am - 5pm

Sun 2 Apr

11am - 5pm

Mon 3 Apr

11am - 5pm

Tue 4 Apr

11am - 5pm

Wed 5 Apr

11am - 5pm

Thu 6 Apr

11am - 5pm

Fri 7 Apr

11am - 5pm

Sat 8 Apr

11am - 5pm

Sun 9 Apr

11am - 5pm

Mon 10 Apr

11am - 5pm

Tue 11 Apr

11am - 5pm

Wed 12 Apr

11am - 5pm

Thu 13 Apr

11am - 5pm

Fri 14 Apr

11am - 5pm

Sat 15 Apr

11am - 5pm

Sun 16 Apr

11am - 5pm